Tarun Tahiliani
Summer 2009's collections heralded the beginning of Grecian and draped dresses on the international ramp. Tarun Tahiliani took this trend forward with his LFW collection. But while the international designers chose pristine white and fiery reds, Tahiliani opted for black and gold, wine and champagne. Despite the similarities, he Indianised his clothes with his magical touch. Once again, Tahiliani proved why he's called the master of drapes in the Indian fashion scene. Throughout the show, the designer's partiality toward gold and earth colours was clearly visible, right from the copper lace sari to his shimmery togas.
Even with the drapes, the designer sought to complement the hourglass figure. He created faux waistlines with cummerbunds and belts, and buckles and brooches on gathers. And it weren't just the dresses that were glamourous. Tahiliani's jackets and sequinned pants oozed evening glamour for those who wanted to keep it casual for a Saturday night in the city.
His collection may come as good news to well-endowed women, as he highlighted the sari blouses of the season — decollete and pave necklines. And just when we thought we had kissed Yash Chopra's shaded saris goodbye, Tahiliani brought them back, though sans the chiffon. Colour graduation was spotted everywhere — on tunics, kameezes, sherwani coats and saris.
Tahiliani's showstopper saris were a pleasant surprise — made of lace, they stood out from the rest of the collection. Indrani Dasgupta's six-yard was encrusted with Swarowski crystallized rubies, pearls and diamonds even as the other three looked extremely wearable, subtle and sophisticated. He paired the lace saris with sequined corsets and bustiers. And that was not all — lace earlier appeared as a thick dupatta and ghagra border and sleeves.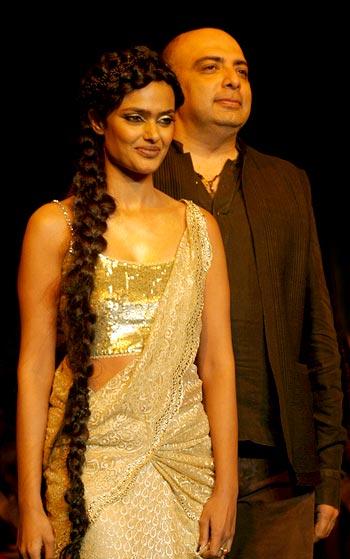 How to wear it: It's always the right time to experiment with your sari draping. If not the adventurous kind, then opt for saris in cream, beige or peach lace with daring blouses. Or the simplest of all — get 'shaded'!