In fashion, we all seek the avant garde, the cutting edge. But great fashion isn't always cutting edge or avant garde. Great fashion is clothes that are given a fresh appeal, looks that alter your perceptions of a garment, and those make you think twice about what you've been wearing. Vikram Phadnis did all this and more.
Phadnis played with colours, silhouettes and fabrics to create a stunning bridal collection. The dazzling colours were put together in unusual combinations — unexpected even in the era of colour contrasts. He mixed purple and blue, maroon and cream, sky blue with sea blue… Imagine the stunning effect of a long green kurta and an indigo textured ghagra teamed with an orange net dupatta.
The luxurious fabrics became richer with zardosi embriodery and crystal work, and the added length of kameezes. In contrast to the elongated kurtas were the very short and sexy cholis, designed to make men at a wedding drool.
The oft-neglected dupatta of a bridal outfit, usually just a slightly modified version of the lehenga itself, was reborn with a new personality. Phadnis showed the world how a dupatta can transform an outfit, like a whole new layer to your clothing. It isn't just an accessory, it's a garment — he seemed to be saying. There was variety in draping, embroidery and colours. His dupattas are something I would want to carry, despite the heavy lehengas. The best dupattas were those of net, complete with exquisite borders and sprays of crystal or embroidery work.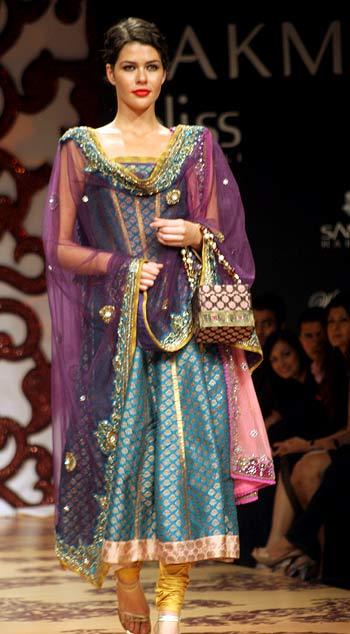 Phadnis mixed silhouettes using fabrics and patterns — like brocade and velvet; or like the modern wave pattern blouse with zardosi on a velvet maroon lehenga. And then there were voluminous ghagras with sherwanis and saris with sherwani-style blouses. Who thought that Indian garments could be layered like this?
How to Wear It: When you get dolled up this festive season, carry a dupatta that does not match. Because, as Phadnis has shown, it really does.